November 14, 2017
Asratec Corp.
Robot control system V-Sido now compatible with
"ROBOTIS OP2" from Robotis

~Cooperation in development of customized robot with STMicroelectronics~
Asratec Corp. ("Asratec"), the robot software company that is a member of the SoftBank Group, announced that its robot control system V-Sido is now fully compatible with the humanoid robot "ROBOTIS OP2" from ROBOTIS CO., LTD ("Robotis").
ROBOTIS OP2 is a humanoid robot approximately 450mm tall that weighs 3.0kg, and integrates Robotis' servomotor "DYNAMIXEL MX-28T" for actuators. It is an open platform robot, which enables customization of its hardware and software. Accordingly, by connecting to V-Sido CONNECT, ROBOTIS OP2 can be operated with the robot control microcontroller board "V-Sido CONNECT" or the robot control application "V-Sido Lite". Today, the Robotis Japan Branch started accepting orders for ROBOTIS OP2 packaged with V-Sido CONNECT.
In addition, Asratec cooperated with STMicroelectronics ("ST") in the development of a demonstration robot (hereafter "the Robot") based on ROBOTIS OP2, and provided V-Sido CONNECT. The Robot integrates several ST products, including microcontrollers, motion sensors and e-compass for posture detection, time-of-flight ranging sensors for distance and gesture detection, environmental sensors including pressure and temperature sensors, a MEMS micro-mirror, MEMS microphones, and a Bluetooth® low energy network processor to communicate with external devices, and other ST components for performing various robot functions.
The Robot will debut at ST's booth at "Embedded Technology 2017", an exhibition held at Pacifico Yokohama from November 15, 2017. Furthermore, the Robot will be demonstrated at ST events held around the world.
Asratec will continue to provide V-Sido to various robot manufactures and promote V-Sido.
Robotis' humanoid robot "Robotis OP2"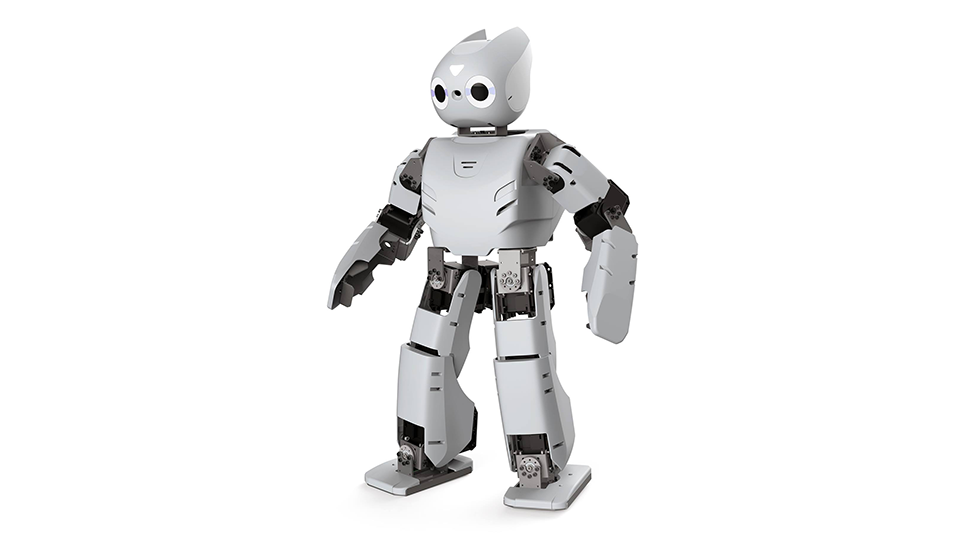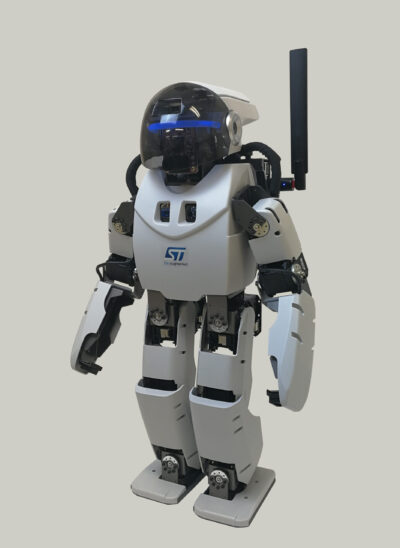 V-Sido OS is real-time robot control software developed by Asratec. V-Sido can generate robot motions and ensure stability that can withstand sudden shocks and not trip over even on tilted surfaces. V-Sido OS has high versatility for various shapes and sizes of robots. No matter the application, V-Sido can control a variety of robots. V-Sido can also enable the control of robots by various devices (interface).
More information: https://www.asratec.co.jp/products/v-sido-os/