April 26, 2018
J-deite Ride LLP
Asratec Corp.
Sansei Technologies, Inc.
BRAVE ROBOTICS Inc.
4-meter Tall Ridable Transforming Humanoid Robot "J-deite RIDE" Unveiled
~Development of transforming robots for rides at amusement parks also launched~
J-deite Ride LLP, Asratec Corp. ("Asratec", a robot software company of the SoftBank Group),Sansei Technologies, Inc. ("Sanesi"), and BRAVE ROBOTICS Inc. ("BRAVE ROBOTICS") announced a prototype of the ridable transforming humanoid robot "J-deite RIDE".
J-deite RIDE is a 4-meter tall robot that can transform from a bipedal walking humanoid form (robot mode) to a wheel-driven form (vehicle mode) and back. Up to two people can ride the robot and is operable from the driver's seat. It can also be operated by remote-control via wireless network. BRAVE ROBOTICS designed and developed the hardware, including the unique transforming mechanism, and Asratec's robot control system "V-Sido" performs the robot motions such as the transformation, bipedal walking, wheel driving and more. Mechanical designer Kunio Okawara cooperated in the robot design.
J-deite RIDE will be showcased at "GoldenWeek DOKIDOKI Festa All Working Cars Assemble!", which will be held from April 28 to May 6, 2018 (shown only on May 5). It is also planned for exhibition at one of the biggest attraction trade shows in the world "IAAPA Attractions Expo 2018", which will be held November in Florida, USA.
Sansei will seek to develop and commercialize transforming robot type amusement rides for amusement parks, such as "transforming go-karts" or "transforming demonstrations at parades", with use of the transforming technology of J-deite RIDE.
J-deite Ride LLP is recruiting sponsors for J-deite RIDE. Sponsors will be able to use J-deite RIDE for exhibitions, promotions, event performances and more.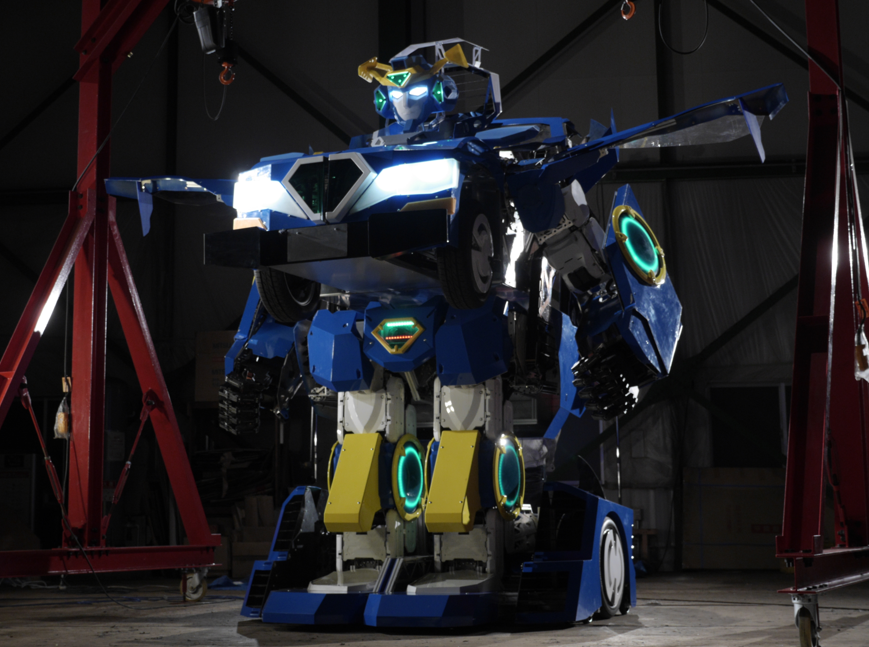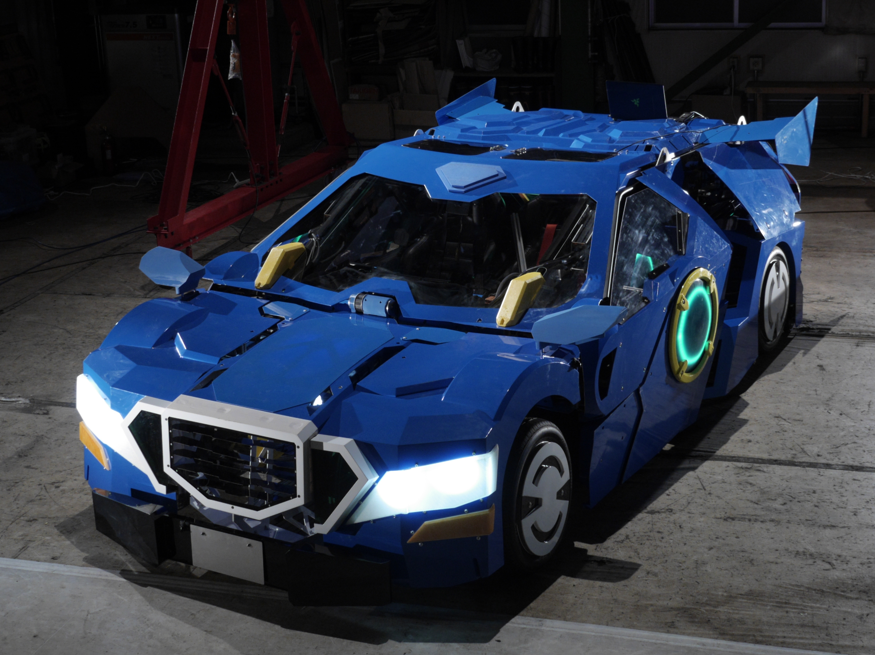 Design image of J-deite RIDE by Kunio Okawara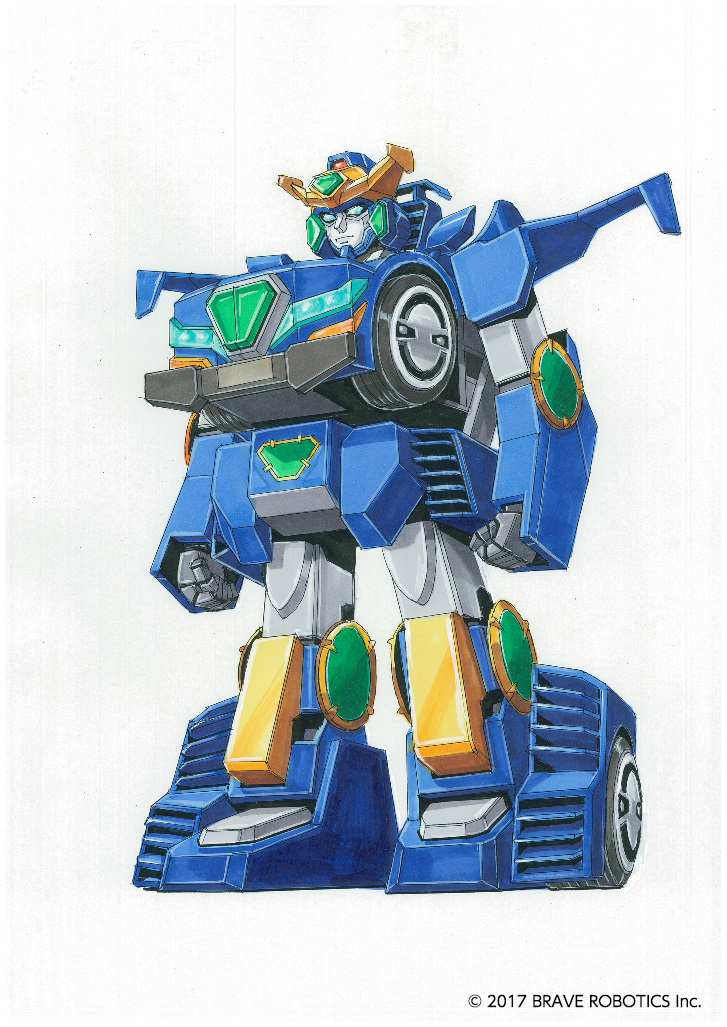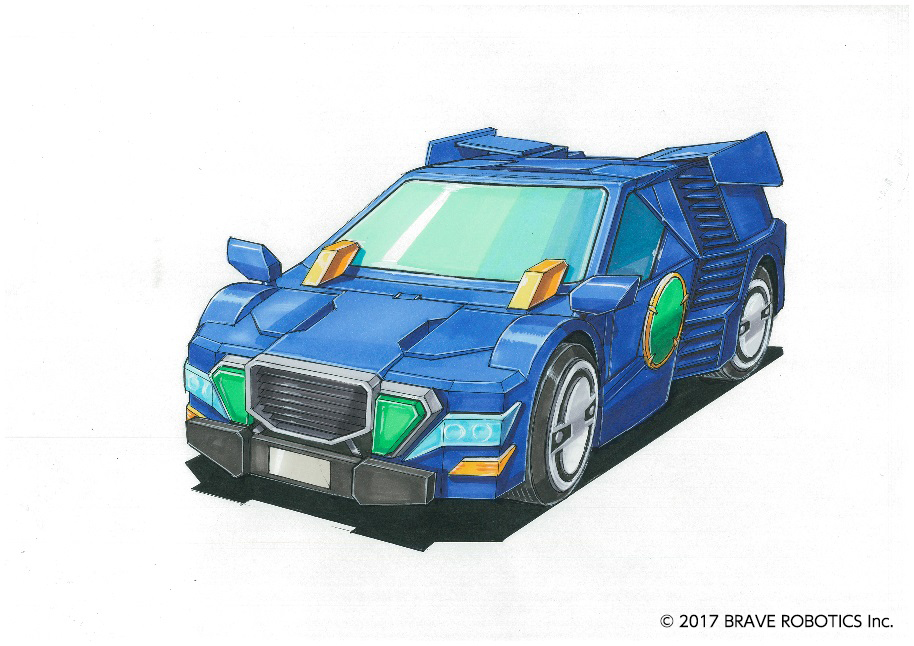 Japan's first mechanical designer, Kunio Okawara is known for mechanical designs of "Time Bokan Series Yatterman", "Mobile Suit Gundam", "Armored Trooper Votoms", among others, and also many transforming robots.
Examples of mass production ideas for amusement parks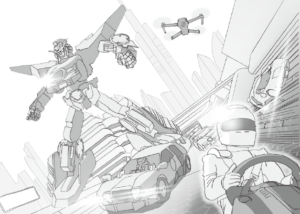 Example 1: Transforming go-kart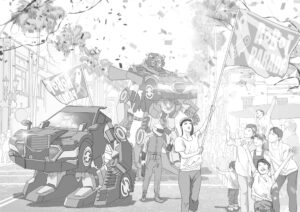 Example 2: Transforming demonstrations at parades
* Exterior and design are adjustable according to the requests from the amusement parks
* Images above are concept idea examples
J-deite RIDE specifications (as of April, 2018)
Robot mode
Vehicle mode
Size
(W×D×H)
4.2×2.5×3.7(m)
1.9×4.0×1.4(m)
Max speed(wheel)
30km/h (theoretical speed)
60km/h (theoretical speed)
Speed(walking)
100m/h(Foot raise: 80mm)
–
Minimum turning radius
0m (pivot available)
5m
Driving wheel
2WD(differential drive)
2WD(RR)
Actuator (wheel)
electric motors + reducers
Weight
1,695kg
Tire size
165/60R15
Seating capacity
2 persons
Control software
V-Sido
Operation
manned operation from cockpit
or unmanned remote operation via wired/wireless network
Frame materials
aluminum alloy, etc.
Exterior materials
FRP, etc.
Battery
lithium battery
Actuator (axis)
electric motors + reducers
Axis
49
(waist:1, leg:4×2, arm:4×2, hand:8×2, head:3, others13)
* "J-deite" is a brand of the robots to which BRAVE ROBOTICS has copyright or other intellectual property rights, and J-deite RIDE is the first ridable transforming humanoid robot product.
Contact for J-deite RIDE sponsorship
E-mail:

Name
J-deite Ride LLP
Location
Tokyo, Japan
Description of business
Coproduction and operation of ridable transforming humanoid robot "J-deite RIDE"
LLP members
Asratec Corp.
Description of Business: Planning, development, sales and consulting for V-Sido related products
Web site:https://www.asratec.co.jp/
Sansei Technologies, Inc.
Description of Business: Plan, design, manufacture, installation, repair and maintenance of amusement rides, stage equipment, elevators and specifically designed equipment.
Web site:http://www.sansei-technologies.com/
BRAVE ROBOTICS Inc.
Description of Business: Development and manufacture of transforming robots, commissioned development of robots, and content provision.
Web site: http://www.braverobotics.com/
J-deite Ride LLP
E-mail: